S2 CEV front light frame
38.00€
CEV Lambretta LI2 TV2 front light frame
Codice Innocenti: 19280020
In stock
6
People watching this product now!
Chromed headlight ring Lambretta LI S2 + TV2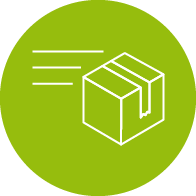 GLS courier
SHIPPING AND PACKAGING COSTS
The shipment of products purchased from the site www.stflambretta.com takes place by GLS courier. The tracking number service is included in the shipping cost. When your order will leave the warehouse with an e-mail from GLS which will indicate the expected delivery times and instructions to trace the path of the package. To this end, we recommend that you indicate an e-mail address currently in use. If you haven't received any notice of this, I need to check your SPAM box.
If you do not see any emails, you can contact us by email at ordini@scooterthefero.com or via chat directly on the site.
Delivery service - Italy 0,1 - 30 kg
ZONE 1: Mantova and Verona - Euro 10,00
ZONE 2: Calabria, Sicilia and Sardegna - Euro 16,00
ZONE 3: Cities and/or Regions not indicated in the other zone - Euro 12,00
Cash on delivery surcharge EURO 5.00
Delivery service - Europe 0,1 - 30 kg
Austria, Belgio, Lussemburgo, Paesi Bassi and Germania - Euro 20,00
Francia and Spagna - Euro 30,00
Irlanda and Portogallo: Euro 40,00
To find out the cost of the shipping service to European countries not indicated above, write an email to info@scooterthefero.com.
Delivery service - Extra Europe
If you want to buy a purchase and the delivery is in a country outside the European Union (including the United Kingdom), write us an email at info@scooterthefero.com.
We will send you a quote with prices net of Italian VAT and the relative shipping costs. Any costs of VAT and customs duties will be borne by the recipient.
The customer is responsible for all possible additional expenses (stocks, shipments returned to the sender, etc.) caused by incomplete and / or incorrect personal data or addresses. The same conditions are also applied in the case of promotions in which Scooter Il Fero offers free shipping. For this reason we invite our kind customers to always provide personal data, shipping addresses, telephone numbers and email addresses currently in use.